2. User Experience Audit
What Is It
User experience audit (UX Audit) is a diagnostic tool to pinpoint less-than-great areas of a site, revealing which areas and features cause headaches for customers and reduce conversion.
The result of the analysis is the basement for making decisions and recommendation on how to enhance the site that accomplishes both user and business objectives.
Formalised studying of web interfaces allows us to find opportunities for improvements: identify existing and potential issues, find bottlenecks that prevent customers from successful goals achievement.
Hence, UX Designers consider a UX Audit as a point-of-departure and source of valuable information for the next steps of the process: prototyping, development, testing.
What Did I Do
To evaluate the audit subject from different perspectives, I used the provisional personas. I tried to test each journey that I think real users may take while trying to accomplish their specific tasks.
As evaluation criteria, I used Information Architecture Heuristics Checklist designed by Abby Covert. To be more specific I combined them with applicable design guidelines from recognized user researchers: Baymard Product Lists and Filtering Report, NNGroup Report.
I took some time to design the audit report template. That helped me to communicate the findings in a robust and comprehensive manner.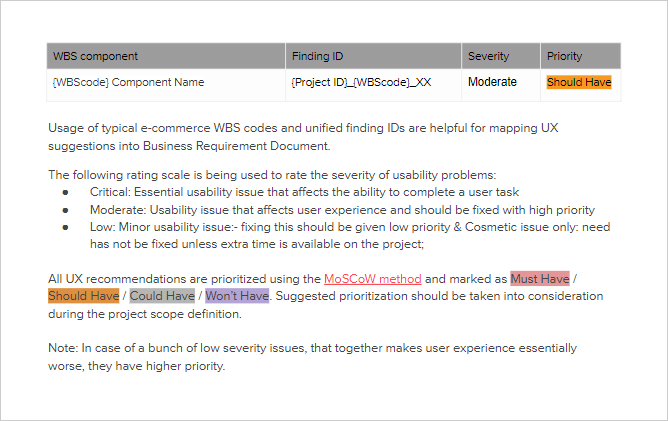 I created the UX Audit Report that includes lots of UX recommendations on how to improve user experience through existing layouts optimizations. To reach a common understanding with stakeholders in next stages, I evaluated UX issues' severity and grouped all findings by priority.